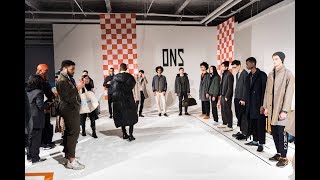 O.N.S FW19 Presentation: Aerial Utility (New York Men's Day)
O.N.S FW19 is a dialog on aviation, altitude, form, and functionality. The various looks are inspired by international airport terminals, aerial views of city grids, bold tarmac markings, and utilitarian uniforms. It also updates classic menswear shapes, utilizes unexpected materials, and employs neo-tailoring techniques.

Accessories provided by Crash Baggage, Maria Black, Moleskine, Native Ken, Timbuk2, Moore + Giles, Gola, and Fliteless.

Styling: Mac Huelster + Jermaine Daley

Grooming: Lab Series Skincare for Men

Hair: Oribe Hair Care

Makeup: Augment + Makeup Pro

Music: DJ Prince

Lighting: Gregory Dratva

📹: Derek Siyarngnork

Follow us on Instagram: @onsclothing
_______________________________________________________

O.N.S makes menswear that embodies the multi-cultural, creative class — those fearless individuals who push past old boundaries and propel new ideas. Our collections embrace the spirit of adventure and creative exploration, melding menswear classics with bold design updates.

We're a vertically integrated brand – we manage every single process from fabric sourcing to manufacturing, to provide the finest quality products to our consumers.