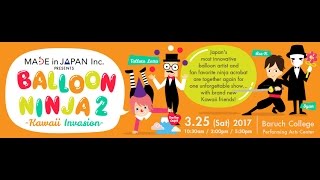 Made In Japan Inc. Pressents Balloon Ninja 2 -Kawaii Invasion
Balloon Ninja is back! Japan's most celebrated balloon twister and world traveling ninja are back, and they brought the world's smallest circus with them. Being true to its motto of showing only the most skilled performers of Japan, Made in Japan Inc. presents Syan, a balloon artist, and Ace-K, a ninja-style acrobat, plus Japan's fan favorite clown/juggler duo, Taratta Latta, to showcase their talents in New York City at Baruch College Performing Art Center.

Balloon Ninja 2—Kawaii Invasion will be a flowing yet fast paced show that is sure to keep everyone mesmerized until the end, no matter how old you are. The show is available one day only on March 25th, 2017, but there will be 3 performances (10:30 AM, 2 PM, 5:30 PM). Tickets are available at http://www.madeinjapanny.com/event.html. Enter discount code "fujiapple" to receive $5 off your ticket purchase. You can also sign up for a balloon twisting class before the show!