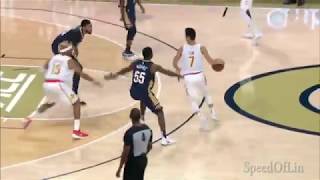 Jeremy Lin Preseason 10/1/18 Plays and Highlights - Pelicans at Hawks
It's been too long since I last posted a video for Jeremy, it's good to see him on the court again. I wasn't able to catch the beginning of the game and might have missed out on some assists, but tried to capture most of the plays Lin was involved in.

I noticed the Hawks run some similar motion type plays compared to the Nets of last year. This makes sense considering Atkinson previously was an assistant coach for the Hawks under head coach Mike Budenholzer. Although of course Budenholzer was replaced this year by Lloyd Pierce, the returning core players are likely still most familiar with this system.

--------------------

Unfortunately I won't be able to post highlights for most if not all of the Hawks' preseason schedule, but will be good to go for the regular season on October 17th!